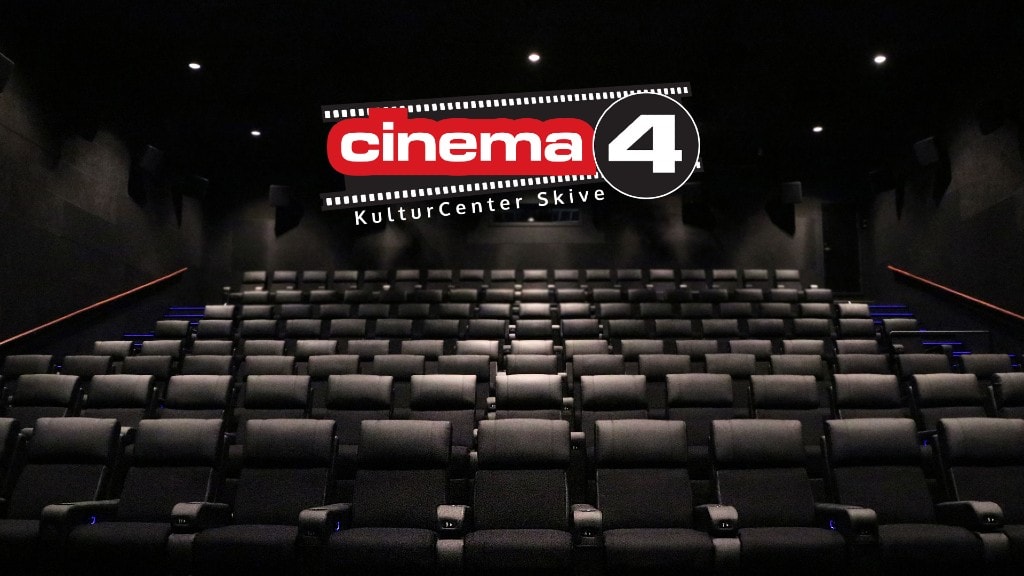 Cinema4
Cinema4 - Cinema in Skive
In Cinema4, quality and comfort takes precedence over quantity.
Therefore, all three cinema halls have luxury chairs with motorized neck and footrests, which is to ensure full comfort of the cinematic coziness.
Cinema4 also strives to give its guests film experiences with the best in cinema sound possible. With more than 45 speakers in each cinema hall, the Dolby Atmos technology allows the director to place the sound with great accuracy in the hall, giving the audience a completely unique movie experience.
All three of the cinema halls Cinema4 has are certified by THX Lucasfilm.
This ensures that Cinema4 can claim to be one of the best cinemas in Denmark when it comes to sound, picture and comfort.
In addition to the three cinema halls, Cinema4 also offers film experiences in Jutland's largest cinema hall: CinemaXL, with a screen of over 100 m2 and room for 988 people.
CinemaXL makes sure that the selected films and world premieres that are shown here becomes a one in a life time experience, these shows are often combined with something out of the ordinary.
In Cinema4's kiosk you can buy all the snacks that belongs to a real cinema experience popcorn, sweets, sodas, coffee, tea and more.
If you are interested in more then just a good film, make it an all-night experience. Cinema4 offers along with Brasserie Bogart: 'Food & Film'.
You can book a table in the cozy American-inspired restaurant, and enjoy a delicious meal with great savings before the movie.
Kulturcenter Skive
Cinema4 is part of KulturCenter (culture center) Skive. Kulturcenter Skive creates many great experiences for the whole family annually.
These experiences range to everything from concerts, stand-up, lectures, theater and much more with artists from both Denmark and abroad in the large concert hall.
Information
For contact, opening hours or more information on Cinema4: Cinema4